A VILLAGE HOUSE FOR RENT IN ST GERY
A Holiday house available for rent in a quaint french village
THE HOUSE
The house was built in 1880 and is a typical French village house. It is free-standing and is about 100 metres from the river (you can hear the river from the house and see it through the trees from the upstairs bedrooms). Downstairs there is an entry, a bathroom with a separate toilet and 4 large rooms (approximately 5m by 5m each). These rooms comprise the kitchen, which has a country style table and chairs and is comfortably equipped, downstairs bedroom with a queen bed, a dining room and a living area. The main living area opens on to a back terrace that opens on to the back garden. The back yard is about 600m2 and has a couple of areas to escape to. This is a beautiful spot to sit and relax, with the sounds of the river in the background.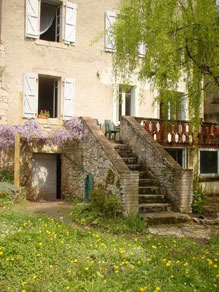 A photo of the house
taken from the back garden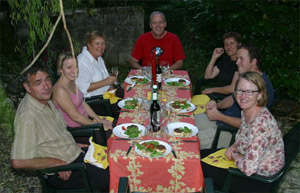 Dinner in the back garden
UPSTAIRS
Upstairs there are 4 more bedrooms and a library. One of these bedrooms is the same size as the downstairs bedroom and has a queen bed. The other 3 bedrooms are accessed via a wide corridor and overlook the back garden. The library has a table for writing, a couch for reading and is access for the upstairs bathroom and separate toilet. The arrangement and layout of the house allows for a very comfortable and cosy stay for 2 people who only need to use the downstairs floor. Alternatively the house can accommodate 2 families or an extended family, with plenty of space for spreading out. The house is fully equipped to make your stay enjoyable. This includes items such a CD player, TV, DVD and video player, all your basic kitchen needs, washing machine, outdoor furniture and a supply of games and books.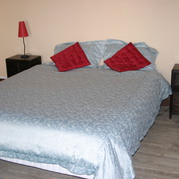 Main Upstairs Bedroom
An Upstairs Bedroom