HOLIDAY ACCOMMODATION IN FRANCE
A Holiday house available for rent in a quaint french village
THE SURROUNDING REGION of LOT
The Lot area is rich in rural culture. You can visit an array of museums, monuments, windmills, castles and caves - all within easy reach and comprising a half-day outing.The surrounding area abounds in medieval hilltop villages (the most famous of these is Saint Cirq Lapopie, just 10kms down the road to the east), prehistoric caves (the Pech Merle caves are about 10kms to the north-east) and the beautiful old town of the Lot and Cele valleys.
The Lot region offers everything you could want on holidays and a chance to really experience rural French life. The regions cuisine includes truffles, special local cheeses including those from Rocamadour, free-range lamb from the Quercy region (considered very succulent and tasty because of the special characteristics of the grasses that grow in the local limestone), walnuts and plums (as well as their oils and liqueurs).
Because of the terrain and rivers there are many outdoor activities catered for including cycling, rock climbing, canoeing and fantastic walking paths.
THE VILLAGE OF ST GERY IS LOCATED:
576 km from PARIS
125 km from TOULOUSE
235 km from BORDEAUX
451 km from MARSEILLES
435 km from LYON
801 km from LILLE
794 km from BREST
19 km from CAHORS
The region is particularly famous for its red wine and goose and duck products. The authentic and traditional know-how of the region combine to produce delights such as foie gras, goose and duck confits and fillet of duck breast. There are plenty of hidden places to discover where you can sample these delights. Cahors, about 17km from St Gery, is the capital of the Lot department and is a town of about 20,000 people. Fortified edifices from the roman times are easily seen and you can enjoy roman sites, a famous medieval bridge and a large medieval quarter. It was founded by the Romans, was a prosperous commercial center in medieval times during which it boasted a university. In the warmer months there are many local festivals and events to enjoy. These range from week long jazz and blues festivals to antiques markets and collectors fairs.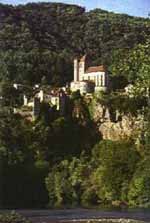 St Cirq Lapopie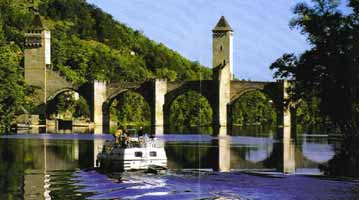 The famous bridge of Cahors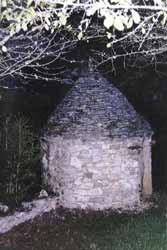 A characteristic of the area
A stone hut for sheltering animals
FURTHER INFORMATION ABOUT THE REGION CAN BE FOUND AT THE FOLLOWING WEBSITES: